Testimonials
We have many satisfied customers and thrive on word-of-mouth recommendations. Hear what some of our Solar PV customers have to say and see photos of our work
If you'd like to find out more about Solar PV, or arrange a free, no obligation consultation, please get in touch.
"Thank goodness for the Hammonds at Solar City UK - they completely turned-around what was becoming a fraught decision-making process. I'm genuinely grateful" Donnie Macdonald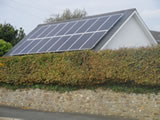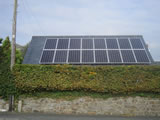 "What do you do if you want a PV system but have a potentially tricky shading issue? What I did was to endlessly surf the net for information and also get around a half-dozen PV installers out to have a look-see. At the end of this process, I was more in the dark than my PV panels would ever be. I couldn't have received a more diverse range of opinions, ranging from "Don't worry, mate - it'll have no effect" to "It simply ain't viable, guv' - don't do it." Clearly, there are lots of 'cowboys' out there, and my decision had to be that it was simply too risky a proposition to proceed.
I then chanced across an electrician's forum on the internet which had a dedicated PV section. I posted a plea for advice on there and received a good number of genuinely useful replies. One of these helpful respondents stuck out from the rest - this fellow was clearly very knowledgeable and provided only thoughtful, balanced & justified opinions. What's more, no question was too much trouble for him to answer.
Armed with new-found confidence I then asked whether anyone on the forum would care to quote for the work. I was pleased to receive a courteous request to do so from this fellow amongst others - and that's how I met Chris and his brother David! In person, the Hammonds were every bit as personable, knowledgeable & straight-forward as I'd hoped, and were also genuinely enthusiastic proponents of PV renewable energy.
Following their visit, I was more than happy to proceed with the install. I'll be honest here and add that their very competitive quote for the work was also persuasive, though not the biggest factor! Despite my roof being covered in real slate, the installation was completed in little over one day. Slate roofs are known to be the most tricky and time-consuming to cope with, but the standard of work I witnessed could not have been higher; the brackets were beautifully 'flashed-in' with real lead, and new slate neatly cut and fitted back around them - superb! The electrical side is equally neat and tidy. My system is a 3.2kW system and suffers from a partial shadow in the afternoons, Despite this - and due no doubt to the Hammond's careful choice of a dual-tracking inverter and a split-PV array -the afternoon of the install saw it generate in excess of 14kWh! Next day the system recorded a peak output of over 3kW! And this was in late September! (Ok, it was a sunny day, but still..!)
My PV system has continued to more than exceeded my expectations, and I simply cannot recommend Chris and David highly enough. As I found, there are many true 'cowboys' in this new PV industry, and also many more who have the best intentions but simply don't have the knowledge and experience.
"If you are looking for PV Solar System installers that are genuine, friendly and highly competent, I can recommend the team at Solar Ciy wholeheartedly." Ron Dark.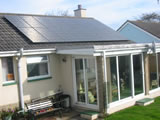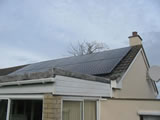 "I was looking for a quality PV installation, and visited the Electricians Forum, which has contributions from some of the best firms in the business.This was where I came across the knowledgeable comments of Chris Hammond, Technical Director of Solar City, based in Solihull.I was delighted when Solar City agreed to submit estimates, and even more pleased at the reasonable quotations.
When Chris and his brother Dave arrived to inspect my setup, I found them very friendly and businesslike, with no hard sell.They were very thorough,and inspected the roof structure, both inside and out, and agreed that my suggestion for siting the invertor and wiring were practicable. They followed the visit up with a comprehensive installation plan, with two PV panel options. I decided on the Sanyo panels ,as they are more efficient, and being smaller, should produce less wind loading.
The installation went very smoothly and all fixtures and fittings used were of excellent quality. The work was completed on time,and everyone who has seen the finished installation has commented on how attractive and neat it looks. Needless to say it also works perfectly. Chris and Dave really are PV experts, and are very happy to explain any points that you ask them.
"I have no hesitation in recommending Solar City" Mr Doughty, Castle Bromwich.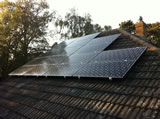 "From the first telephone conversation with Solar City I built up a encouraging rappor, along with a respect of their attitude and knowledge. It was clear they were foremost electrical engineers with a long history of working with, and installing solar systems, and any technical questions were answered immediately and confidently.
When they came to see the property and obtain the information needed for a quote, they were friendly, polite and very professional. There was no 'hard sell' involved, which I found very reassuring, instead they relied on the expertise to sell themselves.
The quote itself was incredibly detailed, giving information and drawings on the potential system, along with projected electricity generation based on local weather patterns that had been recorded over decades, and likely revenues generated from the array. I found it very easy to decide to use them as our installers, which has so far been proved as an excellent one.
The install itself was professionally managed and setup, with scaffolding erected the day before the installation, and by the end of the day power was already being generated. All workmen were very professional and friendly, and any works carried out were done efficiently and cleanly.
Once the installation was complete they were very helpful with the paperwork needed to setup the system, and establishing a deal with an energy supplier for payment of power generated. I have no hesitation in recommending Solar City, and have already started to do.
"To say I am pleased with the end result is an understatement, They did a perfect job in one day, clean, tidy and efficient. The power generation is already better than expected." Lee Millard, Solihull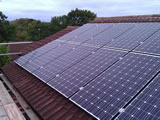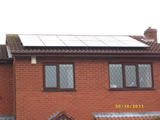 "I pontificated for two years before committing to solar power. It seems I did myself a massive favour, I found a first class installer and a top quality system at an excellent price. No pushy salesmen, just straight honest information.
Many thanks to the brothers Hammond and the team at Solar city. To say I am pleased with the end result is an understatement. They did a perfect job in one day, clean, tidy and efficient. The power generation is already better than expected.
They managed to keep all the controls together without being obtrusive. I can monitor the system from my laptop and from the wireless handheld display. Feel free to contact me through Solar City if you would like to see their work.
Thanks again Solar city.
"Nothing was rushed. Nothing was too much trouble" Mr A. Trott. Birmingham. March 2011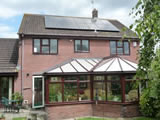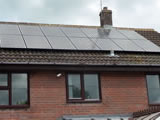 "The decision to invest and spend a reasonable amount of money takes a while, but as long as you have a company like Solarcity helping you in the background with technical and general support you cannot go wrong. No hard sell just facts, figures and support. When the green light is pressed it all falls into place, install schedules arranged and dates kept, deliveries confirmed.
On the day Solarcity arrived as arranged and commenced work. All work was carried out in a tidy and very professional manor. Within two days all work was completed and a hand over session was arranged at my convenience - nothing was rushed, nothing was too much trouble - a very professional service, and thoroughly recommended."
"They regularly and patiently answered the many questions I had" - Mr M Mudd. Solihull. May 2011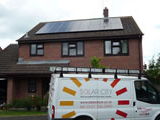 "I had been thinking about solar PV for around six months, so I embarked on getting quotes from a number of potential installers for my system, one of these being 'Solar City' who I became aware of through a friend.
No doubt there are many reputable installers in the UK, but I needn't have looked any further than Solar City. These guys were highly professional right from the start. They gave very competitive and detailed quotes of the options available to me, and regularly and patiently answered the many exchanges/emails of questions I had as a newcomer to this technology.
So the day arrived when I contracted Solar City to do the job and shortly afterwards my system was being installed. Within one day all was done and I was generating my own electricity from my 4kW system. One could be forgiven for thinking there would be some mess. Not at all. A couple of small out of sight holes from the house loft to the garage loft was all that was required, and nothing at all had to be done inside the house.
Since being up and running these guys have followed up with post installation checks to ensure the system is ok. They have worked hard to ensure that everything is to my satisfaction.
If you are considering Solar PV, then I can thoroughly recommend Solar City. They are a good team and will work hard with you to ensure you get a system tailored for you."
"They more than matched my enthusiasm for my solar system" - Mr D. Clark. Birmingham. April 2011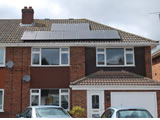 "Solar City do exactly what they say on their website. The people who did the first consultation were the same people that did the work on my roof. They are professional, courteous and very helpful. They more than matched my enthusiasm for my solar system. Nothing was too much trouble for them, they were a pleasure to have around and they completed the work in one day. A great experience and I'd thoroughly recommend them. Great price too.
"So nice to find such a high level of customer service" - Mrs K. Jago. Birmingham. April 2011
"From the first time I met Chris and David Hammond, I was impressed by their smart appearance, courteous manner and excellent knowledge about the PV panels and the Feed in tariff. They explained everything very well and used special software to work out how to position the PV panels for best production. We had no hesitation in asking them to fit our panels.
I had feared that the installation process would involve a lot of disruption to the house but they took great care of everything and went to great efforts answering our questions and responding to our requests.
We have now been producing electricity for a few months and are so glad that we asked them to fit our panels. They even helped with my application for the Feed in tariff and have made it clear that ongoing support is never more than a phone call away. A truly excellent company and so nice to find such a high level of customer service. I would recommend them most highly."
"I was most impressed with the speed with which you carried out the work" - Mr P. Nash. Birmingham. April 2011
"I just thought I would let you know how pleased I am with the solar panels and the way the sale proceeded from start to finish. I found both of you most informative and was delighted with the way you answered all my (in some cases quite probing) questions. I do believe we are all now a little wiser thanks to your efforts to help me understand the workings of what is a relatively new technology for us. Your attention to my needs is much appreciated and I am sure other clients feel the same.
I was most impressed with the speed with which you carried out the work and was pleased you kept your word, and at least one of you were on site at all times.
I would be very happy to share my experiences with any of your prospective clients and they are welcome to visit me and see for themselves, providing it is convenient for us.
Thanks once again.
P. Nash"
More photos of our work